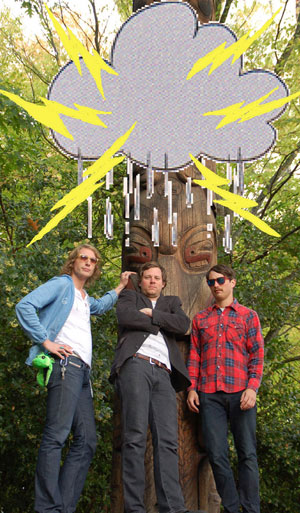 Formed at the end of 2008, Thunder Buffalo was originally the brainchild and one-man act of Aaron Schroeder. Upon his arrival to Seattle, WA. Schroeder spent the last part of 2008 and of early 2009 in the studio spitting out songs that ranged from Country Western to Wall-of-Sound Noise, using nothing more than a guitar, floor tom, and loop pedal. Always unhappy with the end result Schroeder shelved 3 records (a total of 34 songs) in search of a sound he knew was out there, yet unable to grab hold of.
Before his trek up to the great northwest Aaron spent the majority of his life in Austin, TX playing with the very successful regional bands Fire Vs Extinguisher (2000 – 2007), Diagonals (2007 – 2008), and Dikes of Holland (2007 – 2008). Spending much of his time on the road, he also spent his last year as an Austin resident touring with acts Willie Nelson, Matchbox Twenty, and countless others as a live recording engineer.
In early March, 2009, Schroeder played his first and last show as the one-man incarnation of Thunder Buffalo in Seattle, WA, at the venerable jazz venue Triple Door Musicquarium where 15 minutes into his reverb-soaked noise set he was asked to turn down and eventually asked to leave the stage. People who witnessed his set remarked upon its originality, staggering ability to push the envelope on conventional music, and the intensity in which he performed, sparking resemblance's to NYC pioneers Suicide and Psychic TV.
Shortly after the Musicquarium experience Schroeder returned to his hometown of Austin, TX for SXSW and ended up playing sets with friends Dikes of Holland, Expensive Shit, and Liz Burrito. While in Austin he began the trip back to his roots of psych-garage rock. After his visit, he returned to Seattle and the studio and recorded what is now his debut self-titled full length, "Thunder Buffalo". Playing all instruments without preconceived song structures or click tracks, he pushed out a total of 18 songs in 2 weeks.
"Thunder Buffalo" floats sonically somewhere between Pink Floyds' "Piper at the Gates of Dawn", Raveonettes' "Chain Gang of Love" ,and "Death by Sexy" by Eagles of Death Metal.
Producing, recording, and mixing the entire record himself, Schroeder has shown that the DIY mentality is not just a delusion of grandeur but a reality anyone can achieve. In the summer of 2009, multi-instrumentalist Schroeder once again decided to take a break from Thunder Buffalo to go on an epic tour as a drummer with friends Palit of Austin, TX.
Now an even more seasoned veteran of the road Schroeder went back to Seattle to find the right candidates to complete the Thunder Buffalo line-up. In late 2009 Thunder Buffalo grew by two with the additions of Andrew Greagor of Scraps and Popular Shapes on drums and Branden Kempt of Branden Daniel and Everybody Gets Laid on bass.
As a three-piece Thunder Buffalo will begin an intensive schedule of touring and record promotion at the end of 2009 and into 2010. Recently signed to Sarathan Records of Seattle, WA. Thunder Buffalo's debut record is scheduled for international digital release November 23, 2009, and US physical release in February 9, 2010.